This weekend Beyonce had a West African themed Push Party, which none of us were invited to. But Kelly Rowland, LaLa Anthony, Michelle Williams, and more celebrities we wish we knew were! Thanks to Mrs. Tina Lawson and the Millennial who showed her how to use instagram,  we were able to understand the very well executed African theme of the entire event. The walls were covered with printed fabrics, check out those ankara pillows! Did you peep the kente on Mama Knowles earrings? Or Jay's Kufi with his white tee? I can just imagine the jollof steaming in the sternos.
In recent years, Beyonce has been showing off the West African side of her complex Creole Heritage, much to my appreciation. (Recall her washed out Covergirl Campaign of 2012.) She has her song, Grown Woman on the self titled album, set to Fela Kuti's rhythms, and now this perfectly themed Push Party. Everything was executed with virtue, even the guest's outfits.  And yes, it is customary for an expecting mother to bear her stomach and even her chest in public in some West African cultures. To them a woman's fertility is a source of pride, and not to be hidden under swaths of fabric.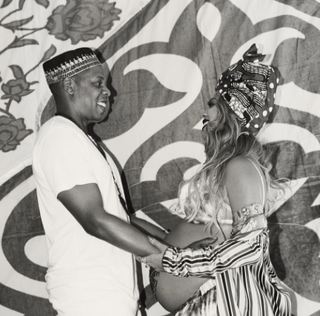 This is the latest lesson from Queen Bey: there is no shame in motherhood. No embarrassment in the belly. Motherhood is to celebrated every time, because each time is a blessing. Furthermore having a child is greater than you, it is the addition to the village or the community. As a wise Senegalese woman told me, "babies come into this world naked…they don't come empty handed." So, ladies who are expecting in 2017, let's have some more African themed Push Parties, so that you may go into your delivery with joy and keep the party going. And let the Phaedra Park's Sip n See die shall we?